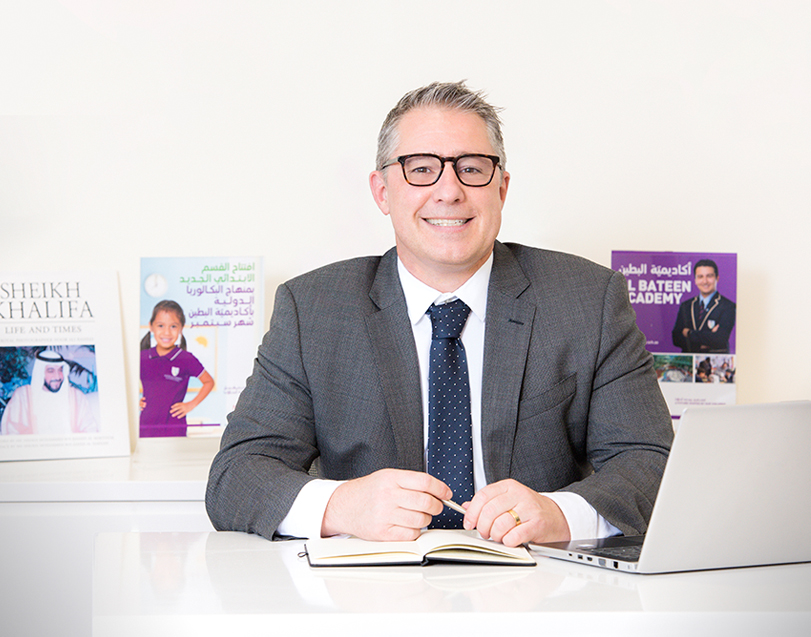 OUR
PRINCIPAL
Neal has more than twenty years of experience working in international schools, with sixteen years in senior leadership positions across Europe and Asia. He has extensive experience in strategic planning, curricular planning and program development, accreditation and compliance systems, budgeting and financial management, risk management planning, and crisis management.
Over the course of his career, Neal has worked to develop opportunities for students that strengthen and enrich learning. Neal has developed service-learning programs, STEAM programs, mother tongue-based language programs, learning support systems, personalized learning systems.
Neal holds a Master's degree in Educational Leadership from Lehigh University, and a School Management and Leadership Certificate from Harvard University. He is a certified International Baccalaureate administrator, and an active member of the Association of International School Heads, and the Council of International Schools where Neal serves as an inspector.
Matthew Smith
Assistant Principal Pastoral
I completed my PGCE in Geography at Keele University. The first 8 years of my teaching career were in Mansfield, England, specialising in delivering History and Geography at KS3,4 and 5, while also taking a keen interest in pastoral care as Head of Year 9.
I joined Bateen World Academy in the summer of 2014 as Head of Year 8, before becoming Head of Year 7 and Transition Coordinator. In 2017 I took on a role in the schools extended leadership team before being appointed Head of Lower School. I have completed Penta school inspection training and in April 2019, I was appointed as Assistant Principal with responsibility for Teaching, Learning and CPD. I currently line manage the MOE subjects at Bateen World Academy as well as ICT and teaching staff in leadership roles.
My passions within school are broad, ranging from teaching and learning through to pastoral care. In my current role I am looking to develop evidence-based teaching and learning strategies which support students to become highly successful learners in an ever-changing world.
Penny Andrianou
Director of Teaching, Learning and CPD
I have been at Bateen World Academy since August 2013 and have had the greatest privilege in leading and developing the Drama Department for the last 8 years and being a member of the Extended Leadership Team.
I have always valued the importance of being a lifelong learner and developing my knowledge and skills within the field of education. This then led me to complete a Masters (MA) in 'Leading Innovation and Change,' and the National Qualification of Senior Leaders (NPQSL).
I have always had a passion for teaching and learning and strive to provide students with innovative and challenging learning experiences, that develop students' individual strengths and passions and enable them to continuously grow and learn. I believe that this an exciting time for education and an opportunity to embrace the rapid changes in technology and aim to provide students with the necessary skills and knowledge to able to navigate their way through an ever-changing technological world.
I believe in the importance of a collaborative working environment, where we share a common goal in supporting all students to recognise that they have the potential to achieve the very best. Thus, enabling students to make connections to the real world and grow to become well-rounded and open-minded international citizens of the 21st century.
AT A GLANCE
| Year Group | School Fees Per Annum (in AED)* | Term 1 | Term 2 | Term 3 | Registration Fee |
| --- | --- | --- | --- | --- | --- |
| FS2 | 54,490 | 21,796 | 16,347 | 16,347 | 2,000 |
| Year 1 – Year 6 | 57,220 | 22,888 | 17,166 | 17,166 | 2,000 |
| Year 7 – Year 8 | 58,650 | 23,460 | 17,595 | 17,595 | 2,000 |
| Year 9 | 62,870 | 25,148 | 18,861 | 18,861 | 2,000 |
| Year 10 – Year 11 | 66,060 | 26,424 | 19,818 | 19,818 | 2,000 |
| Year 12 – Year 13 | 68,830 | 27,532 | 20,649 | 20,649 | 2,000 |
*Fees for the term 2022-2023. Please note, our fees are regulated by ADEK and are subject to change.